Have we all had enough rain? It's certainly been a bumpy ride over winter and spring for many, with lots of wet weather and floods.


Unlike our humans, our hops love a good flood and they're certainly looking vigorous after a big soaking on October 13. Willie's been putting up the strings this week: how happy are these fuggles?


This spring we visited Morrisons to brew and can another batch of Smokin' Jozef ready for summer. This can be purchased online in a carton of 24 cans. Smokin' Jozef was first produced after our trip to Poland in 2019 and is a lightly-smoked wheat ale with a gentle 3.3% abv.


Smokin' Jozef and BoHo Pils are now available on our website and a mixed carton can also be ordered at the same price point. These are both great summer drinking styles perfect for barbeque season.


Our other exciting news from the brewhouse is that Platypus 500 has been brewed, bottled and will soon be ready to order. Celebrating our 500th brew, Platypus 500 is a quirky brown ale brewed with Tasmanian kunzea flowers, hemp hearts and Eclipse hops as well as a complex blend of malts and grain. We may have missed a joke when grabbing this image of Paul and Robert in the brewhouse with kunzea flowers...
We're now in a space where we have cans, 500ml bottles and 750ml bottles which is making the summer mix a creative and logistical nightmare. We're keen for your thoughts on the perfect summer mix from our current stock?
All the current lines are on our website, which can be viewed via the button below (no obligation to buy, certainly happy if you do!).
There have been a few things happening around our premises during spring, including a brand new concrete slab replacing the crumbling old tennis court that has been our visitor carpark for the last decade and a half.
We now have smooth concrete from the main carpark through to the cellar door ramp, making access easier, cleaner and quieter for everyone. We've also put some steps in at the other end of the deck so visitors parking in the overflow area don't have to walk all the way around the building to come into the cellar door.
There will be more development projects happening over the next few months including a solar hot water system for the brewery and 15 Amp power for the food van.
And... we'd also like to remind everyone why you should never drive through floodwaters!
Imagine the forces at work that lifted this bit of road, which was a beautiful new industrial-standard road completed in March 2022. This is the Railton - Latrobe Road (B13) near Caroline Creek around 14 October 2022, with the Mersey River still flooding in the background. We'll be driving this section on gravel again for quite a while.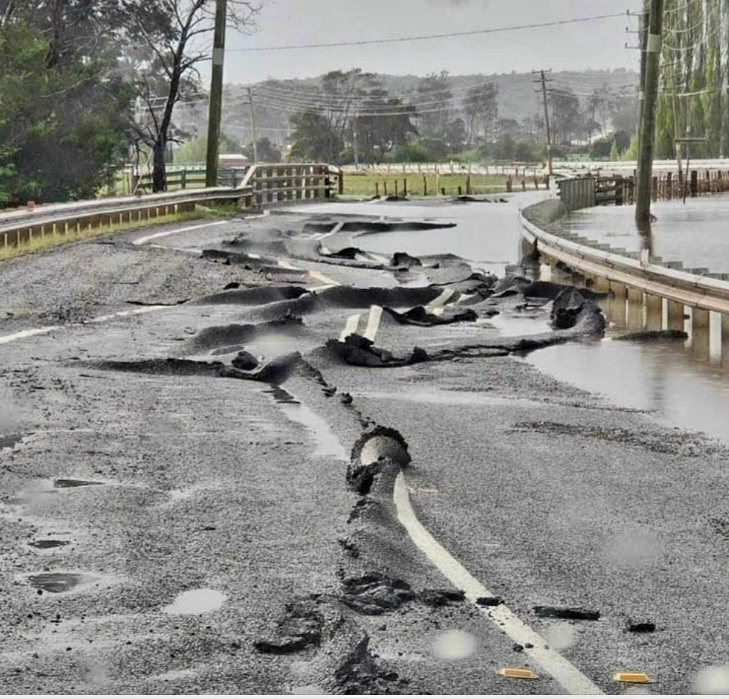 That's it from us for now, we look forward to seeing or hearing from you as summer approaches.


Our cellar door is trading Wednesday to Sunday 11am to 5pm, we're also at Launceston Harvest Market every Saturday from 8:30am to 12:30pm and will be at the Tasmanian Craft Fair in Deloraine outside the gourmet pantry (Alvestone Drive) from Friday to Monday this coming long weekend.


Willie, Catherine and Team Seven Sheds